Full vaccination required for adult students and instructors. Students and instructors are required to be fully vaccinated to train at Ballard Jiu Jitsu.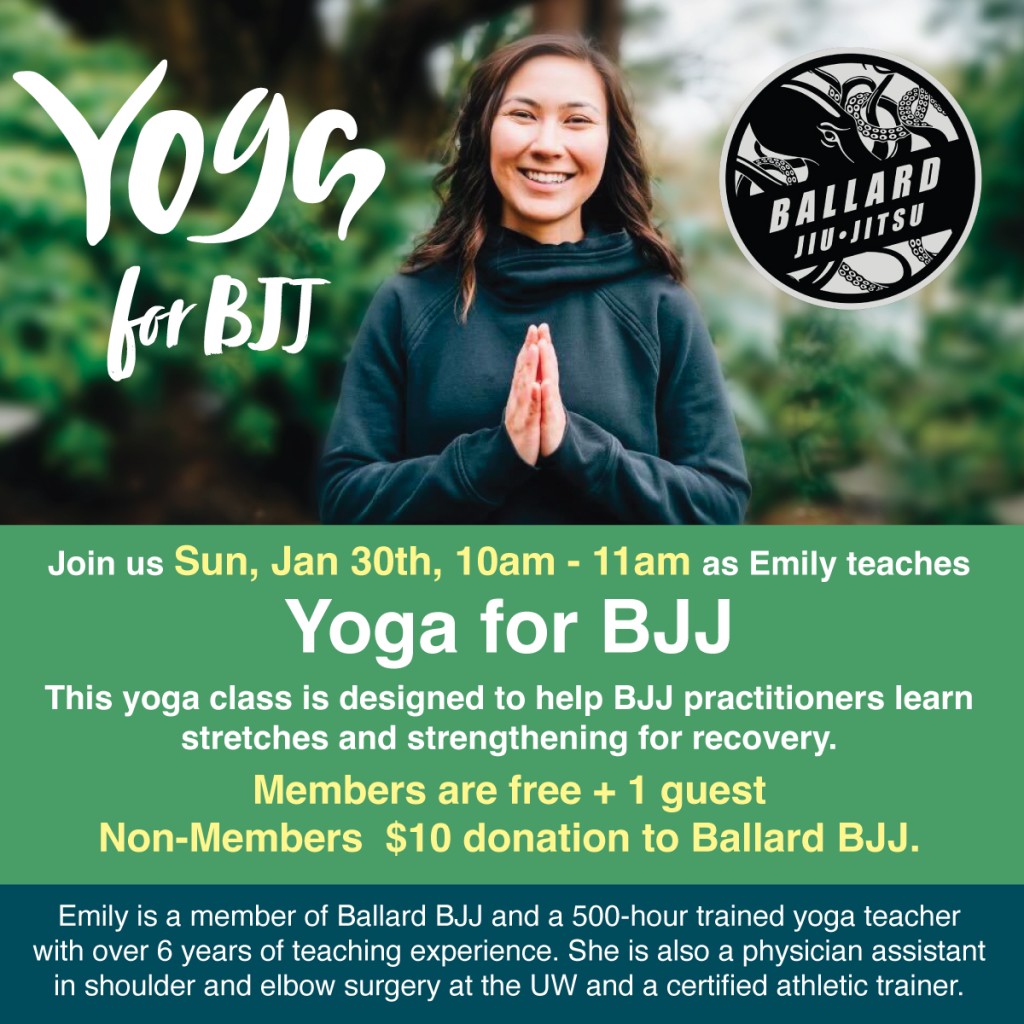 January 24, 2022
Yoga for BJJ - Jan 30th, 10am
Join us on Sunday, Jan 30th from 10am-11am as Emily teaches Yoga for BJJ. This yoga class is designed to help BJJ practitioners learn stretches and strengthening for recovery. Emily is a member of Ballard BJJ and a 500-hour trained yoga teacher with over 6 years of teaching experience. She is also a physician assistant in shoulder and elbow surgery at the UW and a certified athletic trainer. Members are free + 1 guest. Non-Members $10 donation to Ballard BJJ.
"Quit complaining about how sore you are and come do something about it!" — Professor Ian
---
January 17, 2022
Next Sunday Seminar:
Closed Guard

- Feb 6th, 10am

Professor Paul with be showing you the ins and outs of working with closed guard. Great for everyone and especially if you're thinking about competing! Please join us February 6th at 10am. Free to all members!
---
January 11, 2022
New technique videos online
We've added more videos to our video page and our YouTube channel! We are working on building up a library of tips and techniques that you can use as reference. This is just the beginning and many different instructors will be adding to the library.
---
January 3, 2022
Welcome to the new year!
We are fully back to our regular schedule with the exception of no morning classes. We are in the process of getting showers (yay!) and once they're in we will look at bringing back morning classes.
Kids classes are converting to vax classes.
As of the first of the year (2022) our kids classes are converting to vax only classes - having been dedicated partner training previously. This will allow kids to train with more partners.
---
December 14, 2021
H
O
L
I
D
A
Y
S
C
H
E
D
U
L
E
This coming holiday season we are closed for classes on these days: Friday, December 24th - Christmas Eve Saturday, December 25th - Christmas Day Friday, December 31st - New Years Eve Saturday, January 1st - New Years Day
But we do have a Bring-In-The-New-Year Open Mat on Saturday, Jan. 1st at 1pm!
---
December 13, 2021
Side control
Our next Sunday seminar is on side control and is happening Sunday, January 2nd.
---
November 21, 2021
Surviving the Bottom
And why we do the techniques we do.
Our next Sunday seminar is coming up on Sunday, December 5th and is designed to help you understand how to survive when you are in bottom position. It will be from 10am until noon and is free and open to all members! No experience necessary.
AND
We will be closed for Thanksgiving. Happy turkey day! 🦃
---
October 26, 2021
Wrestling takedowns!
Our next Sunday seminar is coming up on Sunday, November 7th and covers Wrestling Takedowns. It will be from 10am until noon and is free and open to all members! No wrestling experience necessary.
---
October 18, 2021
Friday noon classes are back!
Schedule is almost back to normal, with only the Monday noon class still on hold.
---
October 13, 2021
Temporary schedule change
The following noon classes are temporarily cancelled:
• Monday noon
• Friday noon
We are still offering Wednesday noon class time. When we are able to bring them back, we will let everyone know ASAP!
---
October 4, 2021
Beginner classes happening 5 days per week!
We are keeping a full schedule that includes 5 days of beginners classes. We also have lots of all levels classes, an advanced class, lots of open mat and 2 days of all levels no gi jiu-jitsu.
---
September 28, 2021
Sunday Seminar series begins!
We are rolling out our new Sunday Seminar series that is free to all members. It will happen on the first Sunday of every month (unless otherwise noted) from 10am to noon. The inaugural seminar is Professor Zack delving deep into Judo sweeps. These are open to all levels, beginners included!
---
September 15, 2021
Classes have resumed!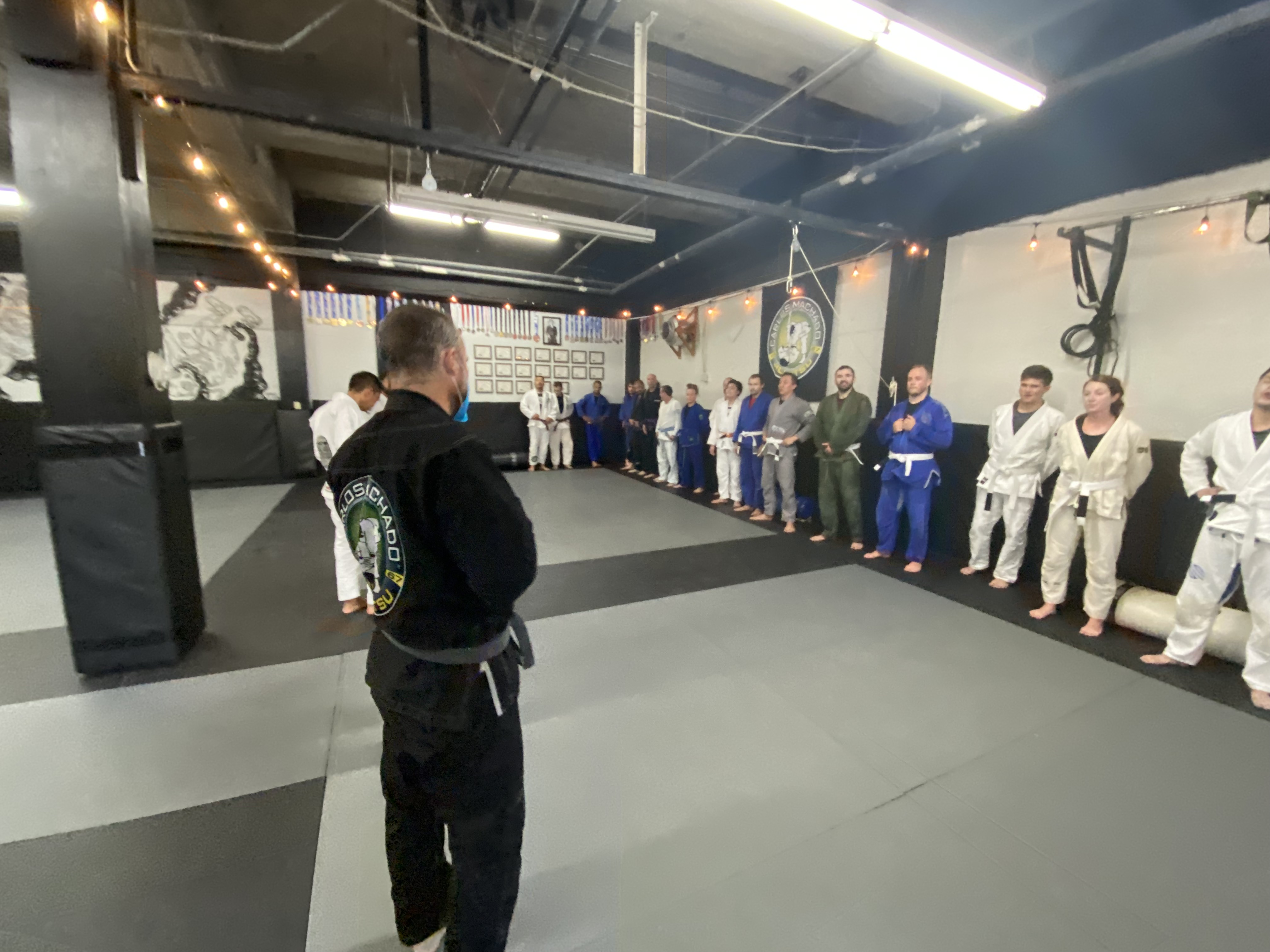 All instructors have been newly COVID tested and all came back negative! Any students that received an email asking to get tested, will need to show proof of negative test results to the instructor before being able to return to class. Excited to get back on the mat. Stay healthy and happy rolling!
---
September 18, 2021
Ballard Jiu-Jitsu is closed through Tuesday.
Due to a positive COVID test earlier this week, the school will be closed through Tuesday Sept. 21 and will re-open Wednesday Sept. 22. This will give time for us to perform a deep clean and for all people that need to test. Everyone that was potentially exposed should have received an email. Looking forward to getting back on the mat!
---
September 15, 2021
New look at Ballard Jiu Jitsu online store!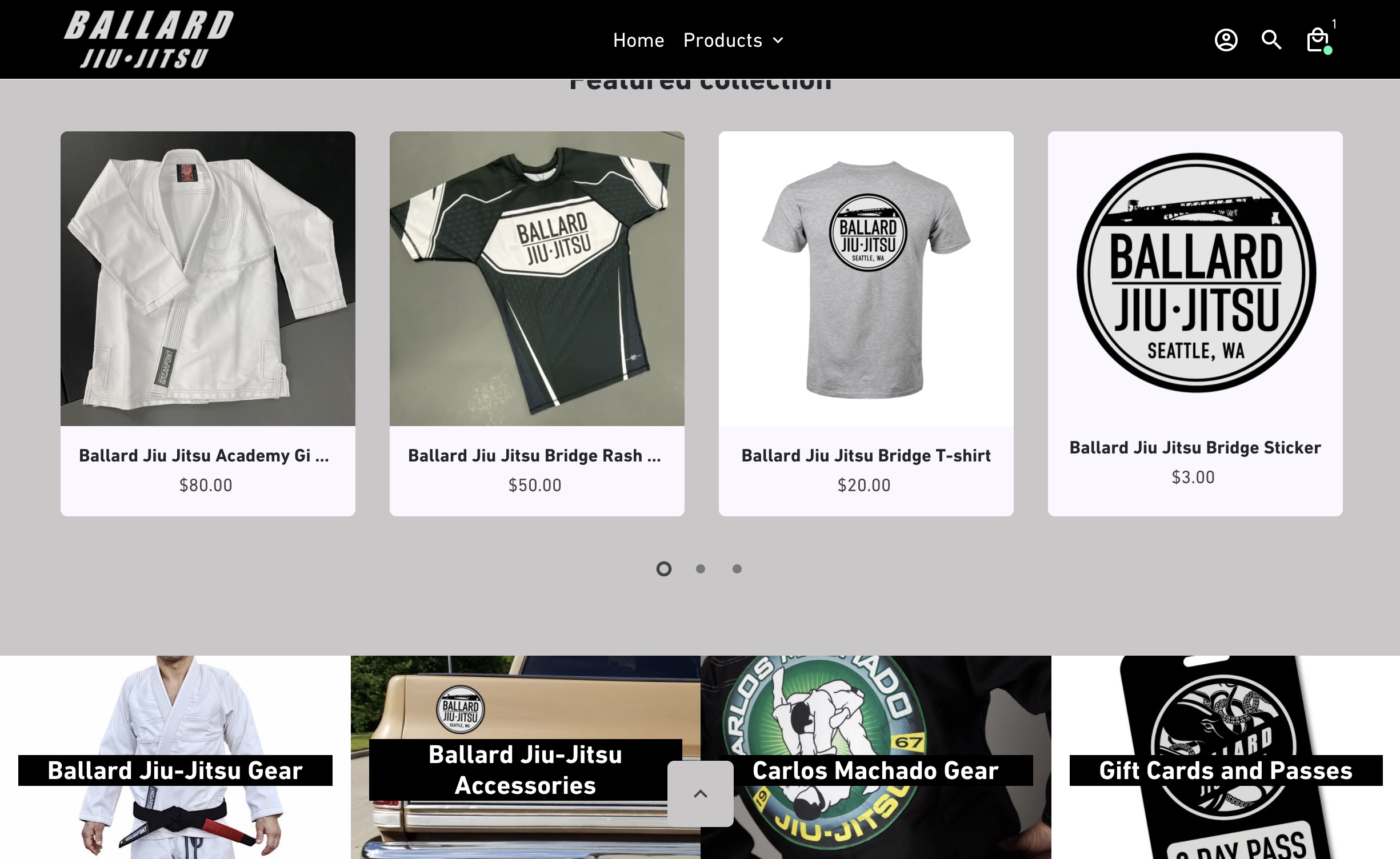 Check out our store with it's new look and new products. If you want any products with the bridge logo, get them before they're gone! We'll be getting in no more new bridge logo products as we transition from the bridge logo to the octopus logo. Also, because Ballard Jiu-Jitsu is a Carlos Machado affiliate, you can purchase any Carlos Machado products at a discount as long as you are a member of Ballard Jiu-Jitsu. We are also now offering membership gift certificates and 3-day passes.
---
September 13, 2021
Schedule returns to normal
After an amazing weekend seminar, everything is back to normal related to our weekly schedule.
---
September 10, 2021
Important weekend schedule changes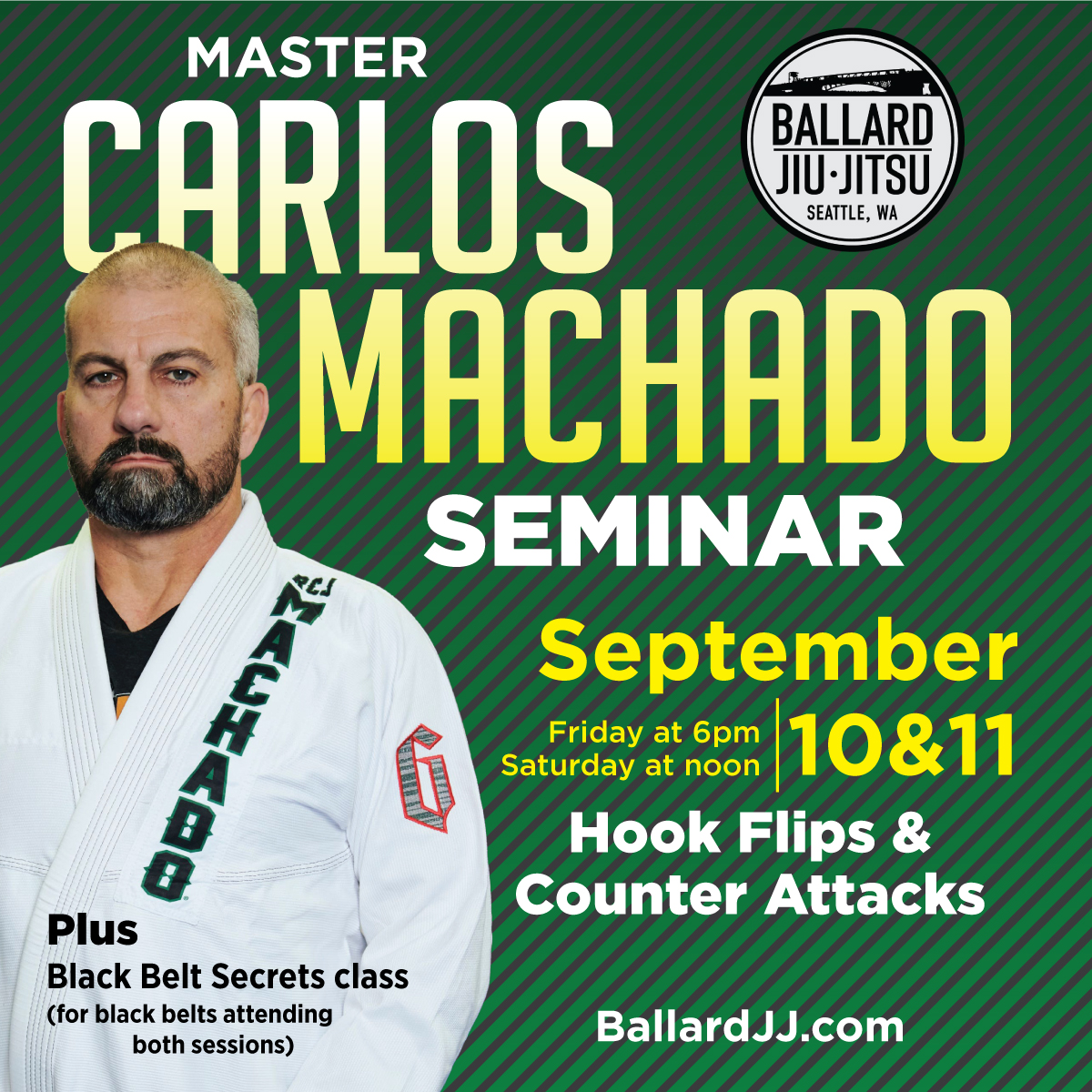 Because of the Carlos Machado Seminars this weekend these classes ARE NOT happening: No gi - Friday 6pm, Beginners and All levels Saturday at noon.
These classes ARE happening: Friday noon No Gi and Saturday 10:45 kids class!
---
September 2, 2021
Download our current schedule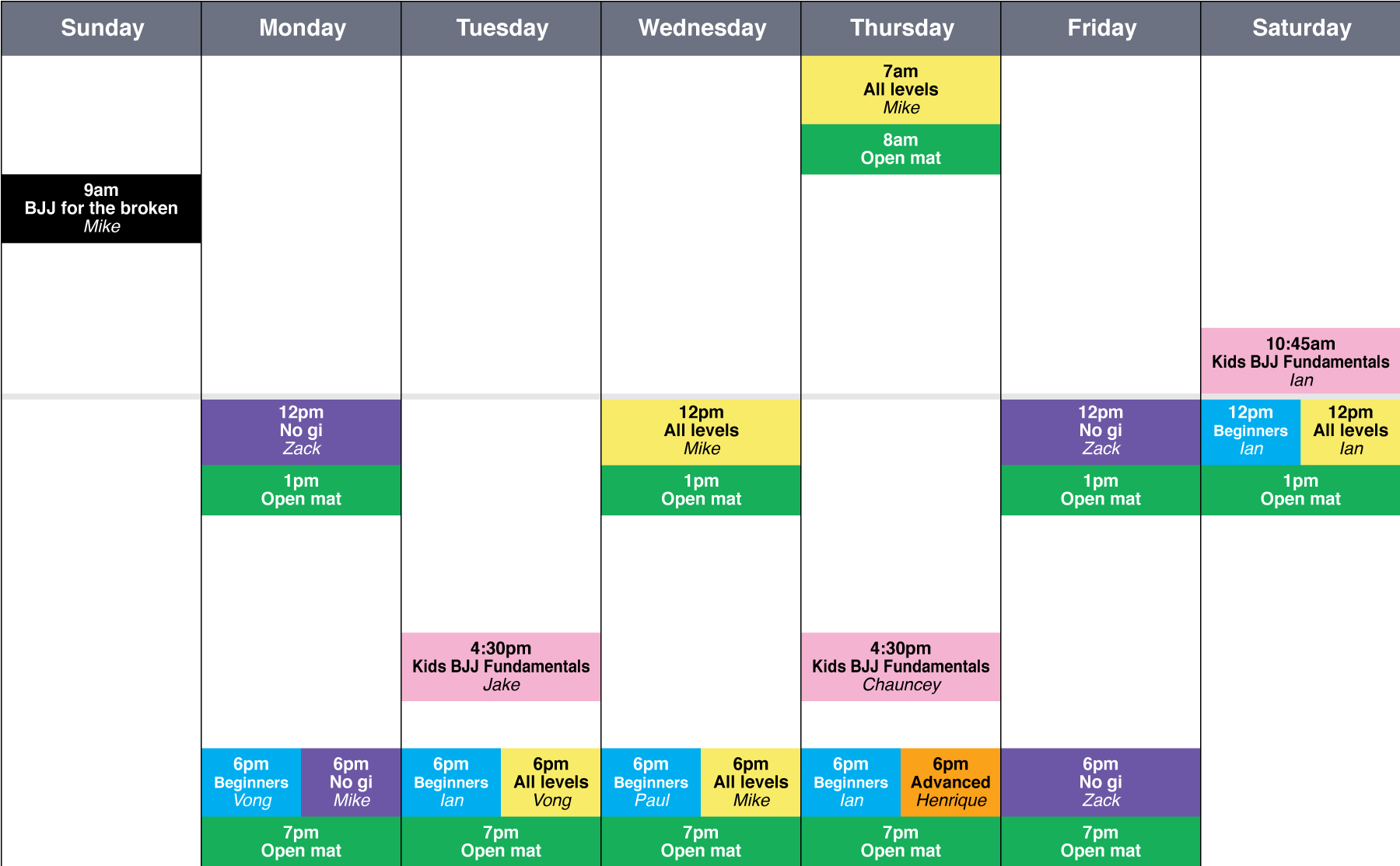 ---
August 25, 2021
Morning classes now just Thursday 7am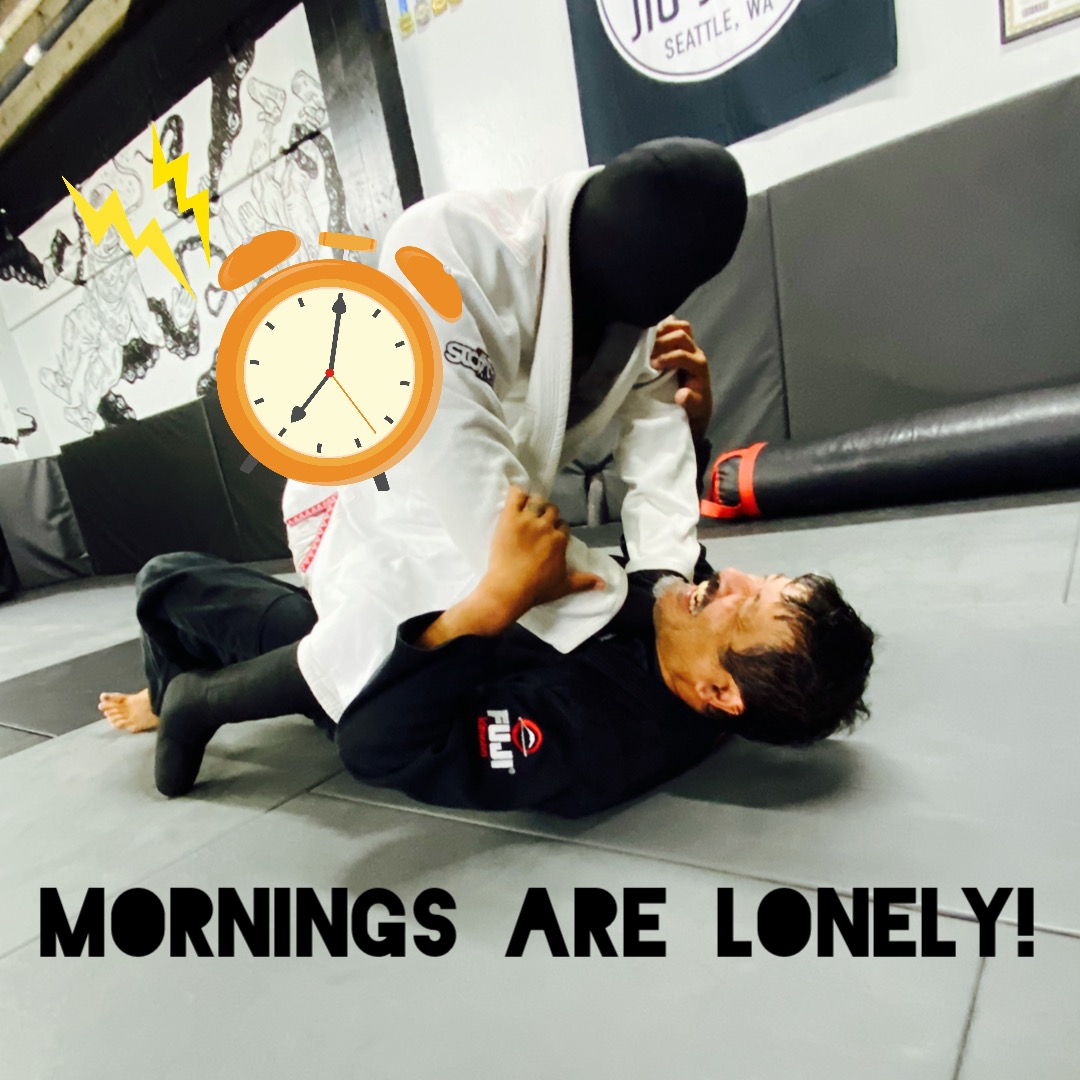 The demand for morning classes has been waning and we know that a shower onsite would help! So we are reducing morning classes to just 1 day per week - Thursdays at 7am. We are also working on trying to get showers figured out! But that may take some time. If you want to train in the mornings and enough people want a certain day or days, we will make that available - just let us know!
See calendar for details
---
August 18, 2021
Carlos Machado Seminar
September 10&11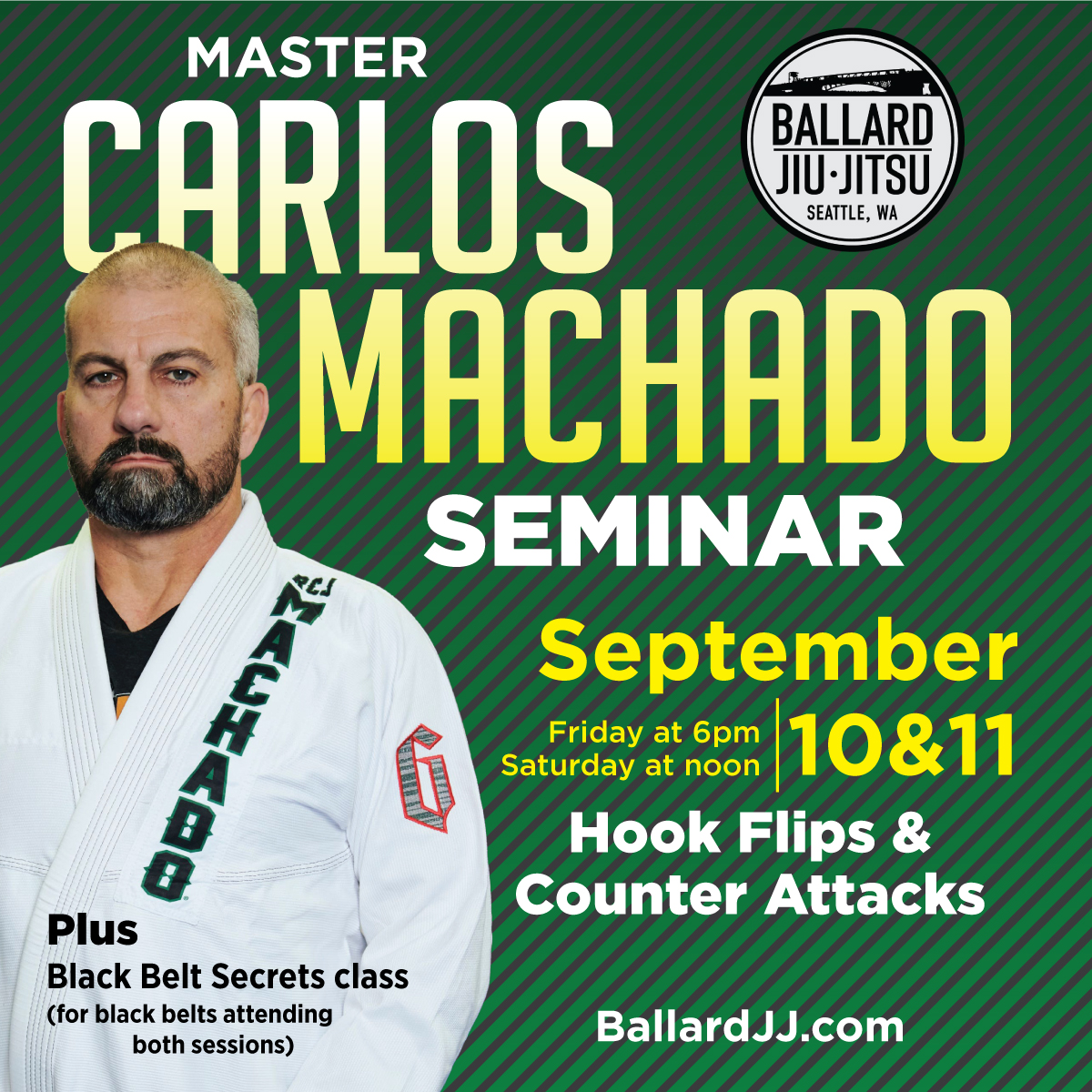 Master Carlos Machado is excited to come to Ballard Jiu-Jitsu to teach 3 AMAZING sessions on Hook Flips, Counter Attacks, and BLACK BELT SECRETS! Spots are LIMITED, and open to ALL LEVELS and ALL ACADEMIES! Make your reservation now, and learn the game that will change your JIU JITSU forever!
Register early as there is limited space.
---
August 16, 2021
No gi classes

now Mondays and Fridays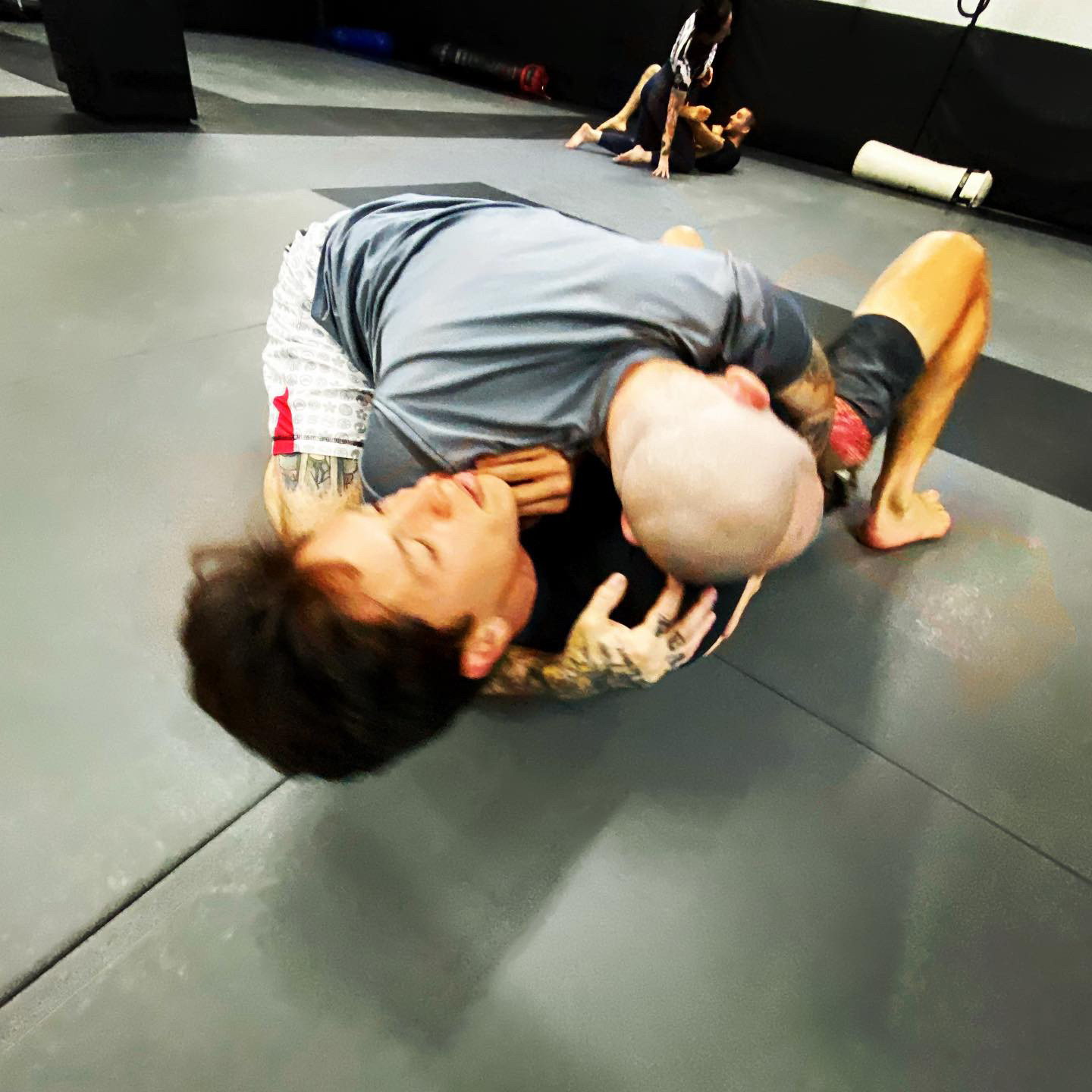 All of the fundamental techniques you would learn in our regular BJJ classes are adapted for our "no gi" program. You will also learn key differences in approach, grips, attacks, defense, strengths and vulnerabilities. Practicing Brazilian Jiu-Jitsu without the gi makes for much faster paced and cardio heavy training, especially during open mat. No experience necessary - all belt levels are welcome.
See calendar for details
---
August 13, 2021
Advanced Class

added Thursday 6pm!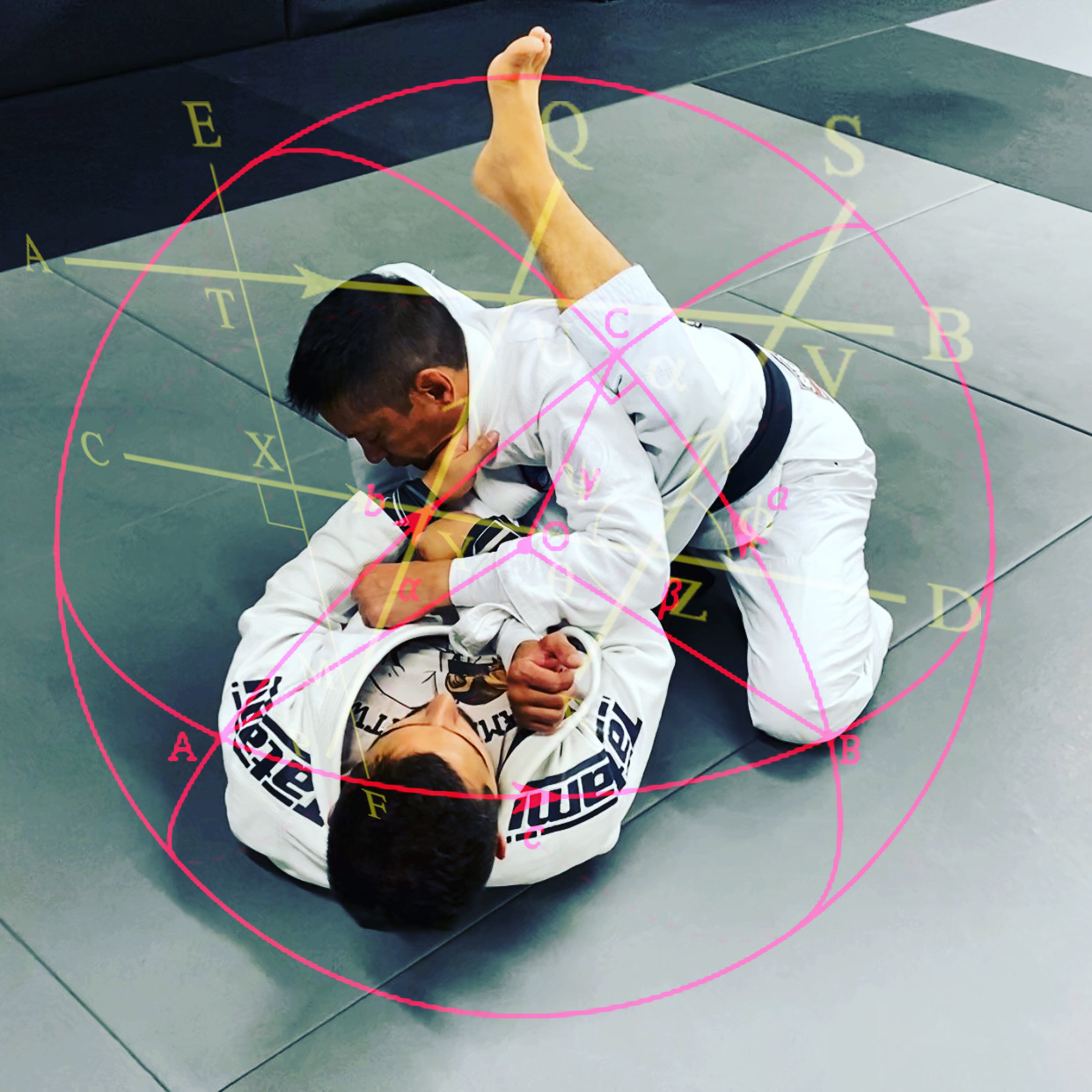 This class explores more advanced concepts and more complicated techniques with finer detail. White belts with 3 strips and above are all welcome. *If you don't fit into that category, you may speak with the instructor about special permission.
See calendar for details
---
August 12, 2021
Beginner classes happening 5 days a week!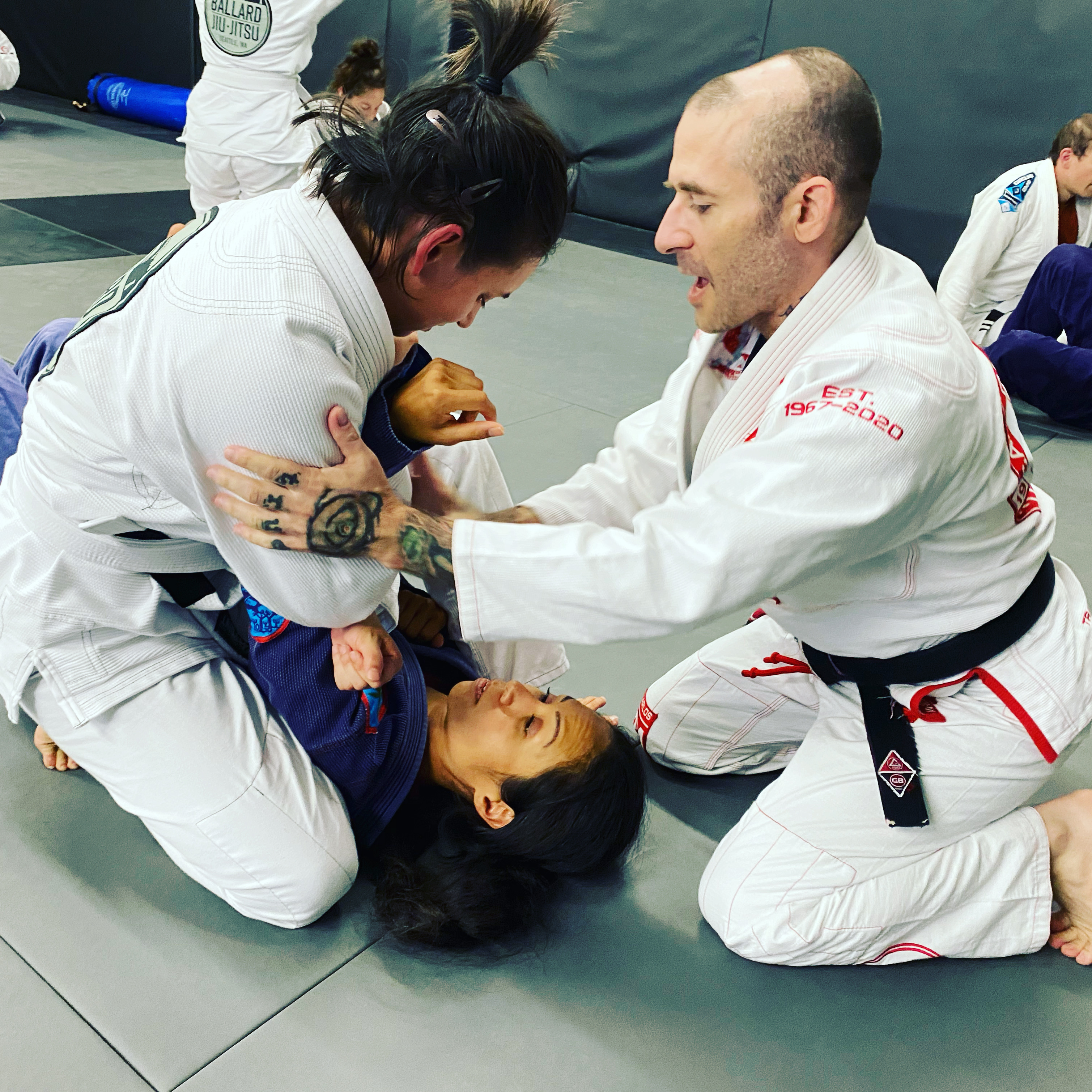 Join in anytime for a smooth entry into Brazilian Jiu Jitsu.
Mon6pm
Tues6pm
Wed6pm
Thur6pm
SatNoon
See calendar for details.
---
August 5, 2021
New schedule!
We have a new schedule with some additional classes as well as class changes starting tonight. Please check the updated Schedule page for changes. It features a colorful new calendar to help you see the week at a glance, and below are complete descriptions of all classes.

---
July 28, 2021
Beginner classes going strong!
Learn all the basics in our beginner classes and feel free to explore our all levels classes for a peek at more advanced concepts and techniques.
Beginner classes are Tues/Thurs/Sat, and we have All Level classes nearly every day! See calendar for details
---
July 19, 2021
Kids classes -
stayin' safe!
3 days a week! Tuesday and Thursday at 4:30, and Saturday at 10:45.
---
July 21, 2021
All levels classes
Currently we are running 9 all levels classes during the week. These are a great way to get exposure so some more advanced techniques and concepts and see how they connect to some things you may already know.
| | |
| --- | --- |
| Mon | noon & 6pm |
| Tues | 7am & 6pm |
| Wed | noon & 6pm |
| Thu | 7am & 6pm |
| Sat | noon |
---
July 20, 2021
Morning classes!
All levels, everyone is welcome. Perfect way to start the day before work! ☀️😎 Tuesday and Thursday at 7am - see calendar for details. Here are two unsolicited reviews just from this mornings class:
"Class today rocked!" ⭐️⭐️⭐️⭐️⭐️
"Thanks for the great class today" ⭐️⭐️⭐️⭐️⭐️
---
July 19, 2021
Beginner classes ongoing -
join up anytime!
Great way to check out Brazilian Jiu Jitsu in a safe and welcoming environment. Learn all the basics and gain Jiu Jitsu confidence.
Tues/Thurs/Sat see calendar for details
---
July 11, 2021
Josh Valles seminar
Sunday, July 18, 10am to Noon
As members of Ballard JJ you get 50% off the cost of this seminar and this is a great introduction to no gi Jiu Jitsu, highly recommended - no no gi experience necessary! This no gi seminar will have a focus on chokes. Q+A and live training to follow.
If you enjoy the seminar, the no gi training, and want more no gi classes, let us know!
---
July 10, 2021
Beginner classes starting this week - July 13
Tues/Thurs/Sat see calendar for details
---
July 3, 2021
iPad class check-in now in place
We now have an iPad mounted next to the dressing rooms where you will check in as you arrive to attend class. This is new to all of us, so if you have any questions please ask the instructor.